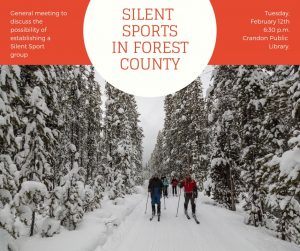 UPDATE:  This meeting is canceled due to inclement weather forecasted for today, February 12th.  We will re-schedule and will update the meeting information as soon as possible.  Thanks for understanding.
Nearly 350,000 of Forest County's total 649,000 acres lie within the Nicolet National Forest. The State and County own tens of thousands of additional acres. These areas present enormous recreational and economic opportunity but as staff and budgets are stretched, it becomes more difficult to maintain and promote these areas. Assistance from outside groups may be the solution. While motorized recreational activities are supported by well-funded, dedicated organizations, silent sports, and more primitive sites haven't had the same level of attention.
On Tuesday, February 12th at 6:30 in the basement of the Crandon Public Library, there will be a general meeting to discuss the possibility of establishing a group to stand ready to assist Local, State and Federal agencies in maintaining and promoting our beautiful public lands and the recreational opportunities they offer.