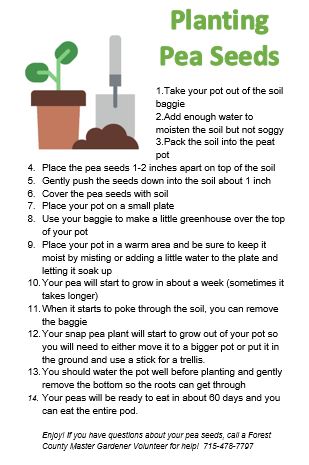 Forest County Master Gardeners are celebrating Wisconsin School Garden Day with a pea seed giveaway!  The local
Master Gardeners understand that the joy of gardening is a great hands on activity at any age and it's never too early to introduce a child the wonders of gardening.
Gardening does not have to be on a grand scale. It is best when beginning a garden to start small; therefore, the kits we've created are meant to encourage youth to learn about seeds and growing a pea plant with their own hands!
100 pea kits have been created by the Master Garden Volunteers and are being distributed with assistance by the public libraries in the county.  Pea kits have been delivered to Goodman/Armstrong Creek and the Crandon Public Library with plans to have the Laona and Wabeno distribute as well.
Kits are available on a first come, first serve basis!  Please reach out and contact your public library to verify their hours of availability and pick up times!  Dig in!
Crandon Public Library – (715) 478-3784 or send an email to info@crandonpl.org
Goodman & Armstrong Creek Public Library –  715-251-3236 or send an email to goo@marinettecountylibraries.org
Edith Evans Community Library – (715) 674-4751 or send an email to director@laonapubliclibrary.com
Wabeno Public Library – 715-473-4131 or send an email to director@wabeno.lib.wi.us