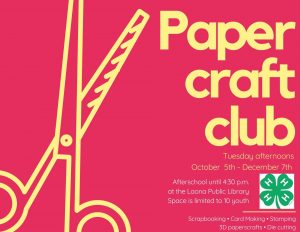 October is the PERFECT time to begin a 4-H Paper Craft project! Learn the basics of scrapbooking, card making, stamping, die cutting and 3D paper crafting just in time for the Holidays! The 4-H Paper Crafts project is designed for all Forest County youth ages 8-18. Participants will be encouraged to develop and submit a project created during the course in the 2022 Forest County Project Expo.  Participants are required to be enrolled in Forest County 4-H which is available to all youth ages Kindergarten to 18.  There is no fee to join 4-H!
Registration for the Paper Craft Club is now OPEN online at 4-H Online.  Current 4-H members will need to re-enroll within 4-H Online to register for this event.
New 4-H members will need to enroll within 4-H Online.  Please visit the Forest County 4-H Enrollment page to learn more.