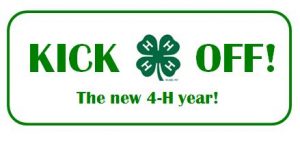 4-H provides opportunities for both youth and adults.  4-H is open to youth in grades 5-year old kindergarten through one year beyond high school graduation and not to extend beyond the age of 19 as of December 31st of the enrollment year regardless of where you live.
4-H also has openings for volunteer leaders who wish to help youth grow in 4-H.  If you have questions or for further 4-H information, you can contact us in the Extension Forest County Office at (715) 478-7797.
Forest County 2021-22 4-H enrollment begins September 23, 2021.
Enrollment is done online or by paper.
---
Re-enroll in 4-H!
4-H Online 2.0 is the online enrollment and registration system for Wisconsin 4-H. This is where you enter family and individual information that is used by your county and the state 4-H offices to manage and record your participation in the 4-H Youth Development program.
If you need a little refresher on how to re-enroll, you can find a guide here! Be sure to read the brief descriptions on each screen while re-enrolling, these are very helpful to explain that step in the enrollment process.
New Enrollment
Forest County 4-H enrollments may be done online at 4-H Online 2.0  For more information on the registration process please visit the Wisconsin 4-H Family Enrollment Guide.  If you need any further help, please call the office at 715-478-7797.
---
Helpful Hints!
Your family login and password will be the same as you used last year. If your password does not work, you can click on the Reset Password link on the login page and you will be emailed a new one.
Youth Enrollments:

Currently enrolled in 5K-2nd grade: Must enroll in Cloverbuds only.
Currently enrolled in 3rd -12th & One year past High School: Must select at least one project area. May enroll in as many as project areas as one may like to learn.