Food, Fun & Fitness!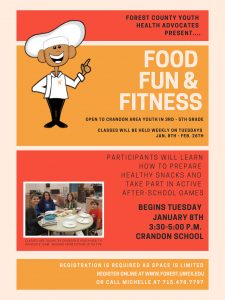 Food, Fun & Fitness will be offered to Crandon youth in grades 3-5 beginning on Tuesday, January 8th beginning at 3:30 p.m. at the Crandon School District. Each week Food, Fun & Fitness participants will have an opportunity to prepare healthy snacks and play active after-school games. The program will be taught by Forest County Youth Health Advocates Sydney Gretzinger, Tia Poe, Navada Peterson, Bryce Marshall and Macy Deaton who have spent the last three weeks learning the Food, Fun and Fitness curriculum developed by Cornell University.
Food, Fun & Fitness is open to all youth in grades 3rd – 5th grade in the Crandon School District and will be held weekly on Tuesday afternoons from 3:30 p.m. – 5:00 p.m. during the months of January and February 2019. Registration for Food, Fun & Fitness is required and begins this week. Please register here.
For more information about the program or if there are questions, please call Michelle Gobert at 715-478-7797.